PE & Sports Premium Funding 2022-2023
1. Background to PE & Sport Premium   
The Department for Education, Department for Health and Department for Media, Culture and Sport announced in March 2013 that there would be a grant for all primary-aged children delivered through schools. This grant became available in the school year 2013/14 and continues to be available until further notice.
The aims of the grant are to ensure children have the chance to:
Develop a lifelong love for physical activity
Enjoy PE and sport both in school and outside of school
Compete in challenging sports activities against their peers
Work towards and achieve sporting excellence from a young age
2. Budget allocation for the Academic Year 2022-2023
Schools with 17 or more eligible pupils receive £16,000 and an additional payment of £10 per pupil. Funding received for this academic year: £18,460.
3. Ofsted advice for spending Sports Premium
It is up to individual schools to determine how best to use this additional funding, however in order to achieve the strategic aims of the grant it is recommended that the money is used to promote physical exercise over and above what is provided in the normal curriculum. Ofsted advise that this money should not be used to provide PE supply teachers (or coaches) to cover planning, preparation and assessment (PPA).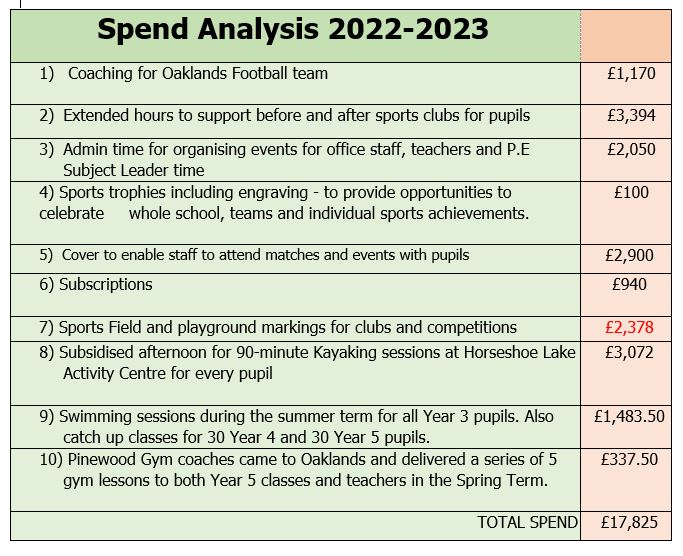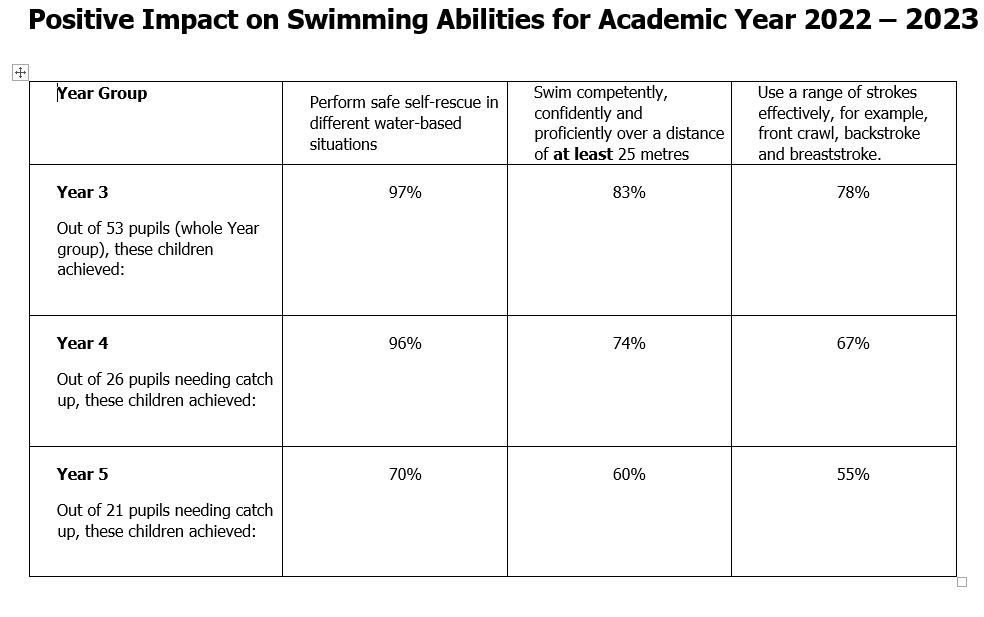 Over the year, children have taken part in:
Competitions / Matches
Netball
Kurling
Boccia
Football
Rugby
District Sports
Year 3 and 4 Indoor Athletics
Cricket
Gymnastics
Sports day – intra-house
Field Sports day – intra-house
Cross Country – Thames Valley Running League (5 events)
Festivals and other Non-Competitive Events
Touch Rugby festival
Inclusive sports days
Badminton festival
Multi-sports festival
Kurling for SEND pupils
Boccia for SEND pupils
Football festival for girls
Hockey taster day for two year groups
Academy training for Sports Captains
Intra-house matches led by Sports Captains or teachers
Clubs run at School by Outside Agencies or Oaklands Teachers
Judo (JW Judo Academy)
Dance (Elibah School of Dance)
Football squad training (EPC – Elite Preparation Centre)
Football (EPC – Elite Preparation Centre)
Badminton (teacher)
Netball (teachers)